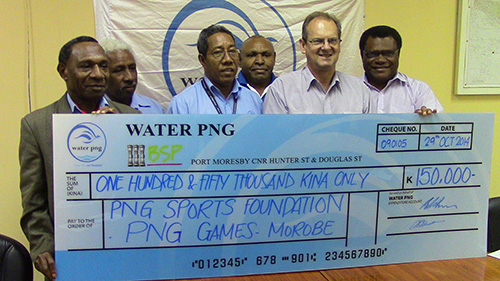 Water
PNG
on
board
with
PNG
Games
by Super User

Hits: 15052
Water PNG is the most recent organisation to support the 2014 BSP PNG Games through the 'Konsel' Sponsorship Package with a contribution of K150, 000.
Water PNG follows a long line of twenty sponsors with corporate contributions totally up to three point eight million kina (K3.8million) received to date inclusive of Water PNG's K150, 000.
According to the Chairman of the Host Organising Committee (HOC) Philip Franklin, the K150, 000 will assist in executing a range of new activities including carrying out of improvements to local venues, coordinating better adjudication for each sporting code, and strengthening security services as well as other logistic and administrative tasks i.e. transportation and other general organization in preparation for the 2- week sporting event.
He said: "Water PNG's service and provision of safe and clean water to the people of this country is outstanding and we are thrilled that they are able to extend their support to the PNG Games. Their contribution as a Konsel sponsor will enable the HOC to stage the best National Sporting Games this country has ever seen and we are excited to have them on board." 
Meanwhile, Water PNG Chief Executive Managing Director Raka Taviri Jr. said: "We are proud to support the PNG Games because it is an excellent platform for emerging athletes to showcase their talents and gain recognition throughout the country." 
The 2-week BSP PNG Games will be held in Lae from the 16th – 29th November 2014 and will see over 10,000 participants from 22 provinces drawn together to compete in this national sporting event. 
According to the PNG Games Organising Committee in Lae, there will be performance by local singing sensations: Christine Anu; Jokema and K-Dumen at the opening ceremony on Sunday the 16th November.
"This will be telecasted live on EMTV. Meanwhile, the opening ceremony tickets are currently on sale for K150 for grandstand seating and K50 for general seating."
HOC added that complimentary pre-issued tickets to all sporting events (except for finals) are also available for collection from Big Rooster, Lae BSP branches, Puma, Theodist, Brian Bell and Lae Biscuit.
In conclusion the HOC said there are still sponsorship opportunities available for corporate sponsorship. Further information can be obtained from their website at www.pnggames.org.pg
About Water PNG:
Water PNG was established under National Water Supply and Sewerage Act 1986 as a State-Owned Enterprise with the responsibility for provision and management of Water Supply and Sewerage services throughout Papua New Guinea except in the National Capital District. 
About PNG 6th Games:
The concept of the PNG Games was first developed and introduced by the PNG Sports Foundation in 2003. The event is held every two years with a mission to promote and develop national unity and provincial pride through participation in sports. It is administered by the PNG Games Host Organising Committee and is governed by the PNG Games Charter.
The 6th edition of the event will attract over 10,000 sports people from 22 Provinces to participate in 28 different sports in 19 different venues.  The slogan for the 2014 event is "BilongYumi"- "Our Games".  The Games will be staged in Morobe Province and leave a legacy of infrastructure for Lae City, providing pathways for grassroots athletes to develop their skills towards professionalism.  
Level 1, Garden City Building, Angau Drive
P.O. Box 2779 Boroko,National Capital District
Phone: 303 1684 or Mobile: 723 28 559
PNG Games
For any enquiries, including corporate sponsorship, please contact authorised PNG Games representative, Terry Johnston from Brand Ambassadors Pty Ltd:
tj@brandambassadors.net.au
or Mobile +61 419 757 896.
 PICTURE: Water PNG Management Team presenting the cheque to the Chairman of the PNG Games Host Organizing Commitee Mr Philip Franklin.